About
FLORIDA CLEANING SYSTEMS
Customer Focused Cleaning
Florida Cleaning System is a full service janitorial company that has been in business since 1992.  Our guiding principal is that our clients' time is valuable and should be devoted to the growth and enhancement of their business, not managing a cleaning staff.  Our focus is on providing the utmost customer service, and we achieve this by operating a professionally managed cleaning service. Below we outline the various ways we ensure good customer focused service:
Facilities –  Below is an example of our storage facilities where we maintain a full inventory of equipment, cleaning chemicals, paper goods, soap, trash liners, etc.  Our 3 warehouse/office facilities are located in Palm Beach,  Broward, and Dade Counties.  At these locations we maintain a large inventory of equipment specialized to handle any kind of emergency cleanup situation.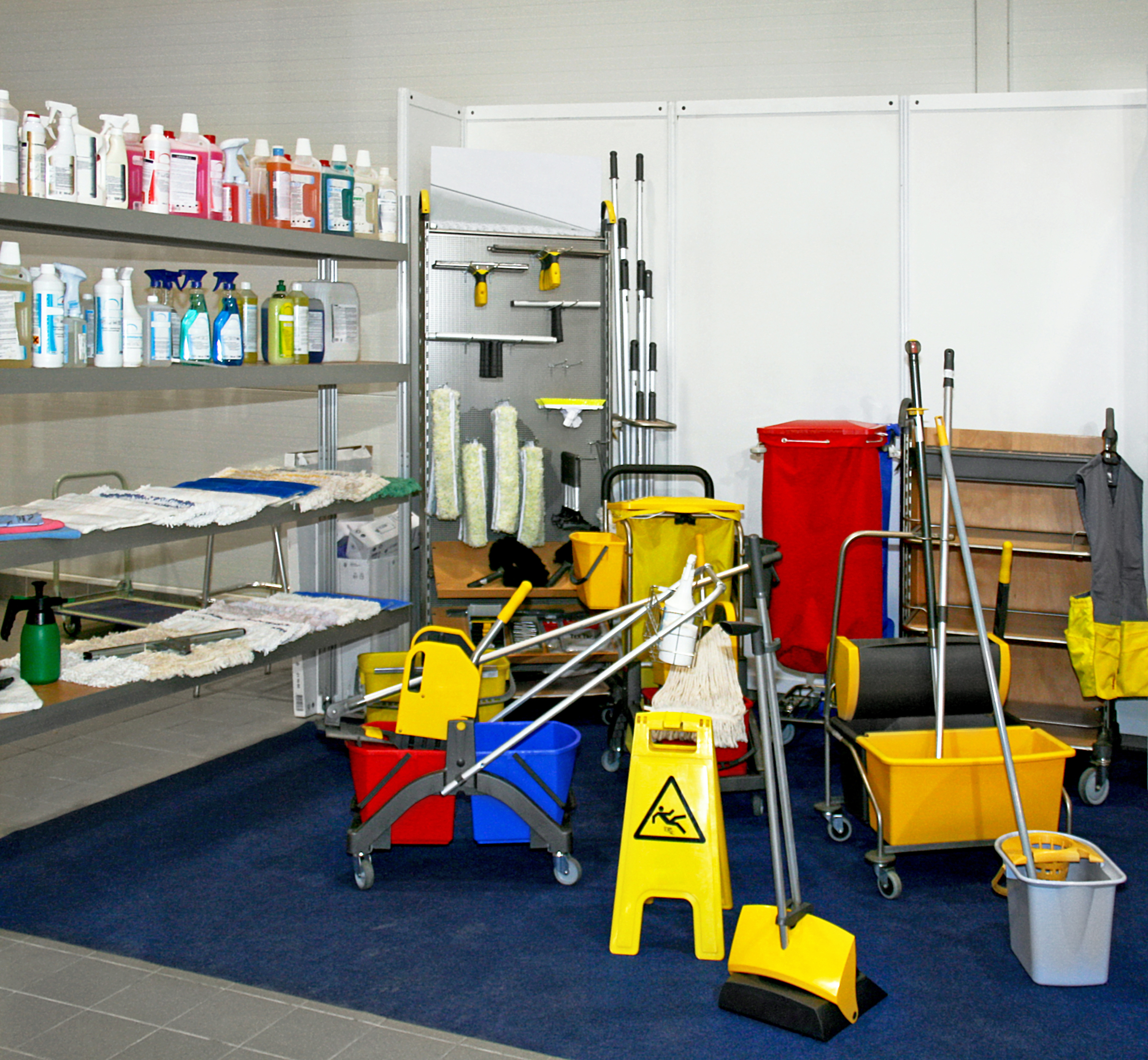 Equipment, Supplies and Chemicals- Our large inventory of cleaning equipment allows us to provide cost effective cleaning solutions to our clientele.  The state of the art equipment we utilize allows us to reduce our labor needs, which translates into fewer man-hours to do the job, and reduced costs to our clients. The certified equipment repair technicians we employ ensure that all our equipment is maintained in good working order. There are literally thousands of different cleaning products on the market.  The average number of chemicals used in a facility, according to national averages, is eleven.  Often these eleven products are from different manufacturers.  Our experience has shown that by using one manufacturer the results are clearly superior.  The chemicals will not interact causing discoloration or excessive wear.  This enables us to have a thoroughly trained, interchangeable crew that knows how to appropriately use the chemicals in a safe and effective manner. We also eliminate the risk of damage to furnishings and finishes in our client's facilities.
Florida Cleaning Systems is a locally owned and operated janitorial service.  We do not sell your account to franchisees, subcontractors, or resellers, as is becoming increasingly common in this industry.  We derive 100% of our income from maintaining a solid, long-term relationship with our clients. Unlike the national chains which derive a major portion of their income from selling and reselling your account to sub-contractors.  This allows us to provide our clients with the customized, personal service they expect and deserve, and ensures that we maintain the 98% client retention rate year after year.
Staff  – Our staff includes janitors, floor care technicians, carpet care technicians, supervisors, managers, and equipment repair technicians. This staff is provided a competitive wage; additionally we reward professional behavior, and provide thorough training and communicate the latest advances in building maintenance.  Our staff receives ongoing training relating to equipment, techniques, supplies/chemicals and government regulations such as OSHA, EPA and international cleaning standards such as ISO (International Standards Organization).  You will never find our staff handling equipment or chemicals that they have not been trained to use.  Each employee has an identification badge which confirms what they are trained to do.  This ensures that no one is ever permitted to do a job, which might cause damage.  We perform complete background checks before hiring to ensure an honest and professional staff of janitors.  Most importantly all staff are employees of Florida Cleaning Systems, not subcontractors or agents of our firm.
Management  – Florida Cleaning Systems, Inc. has an outstanding team of professional led by two individuals with distinguished careers in the areas of business administration, personnel management, building management, and building maintenance.  Under their leadership FCS has considerable resources for addressing issues involved in managing, cleaning, and maintaining our client's business.
Mr. Romero has extensive experience in facilities management, finance, personnel management, and EPA and OSHA regulations. Prior to joining Florida Cleaning Systems he was a Hospital Administrator at Baptist Health Systems in Miami.
Mr. Rossi has over 30 years professional experience in facilities management in New York and Florida with a client list that includes high-tech and industrial clients, and commercial office structures.
Florida Cleaning Systems is a member of the Building Service Contractors Association International  (BSCAI) www.bscai.org .  Founded in 1965 this international organizations mission is to advance the building service contracting industry worldwide.  BSCAI members must adhere to a code of Ethics, which advocates professionalism and fair business practices among cleaning contractors.  Few cleaning companies are allowed membership in this prestigious organization, and we at FCS are proud to be members.
Florida Cleaning Systems  P.O. Box 292155 Davie, Florida 33329 –  954-309-1521 –  954-258-1766
! 😉